Our Salado Heritage Speaks
Historic Salado Cemetery Walking Tour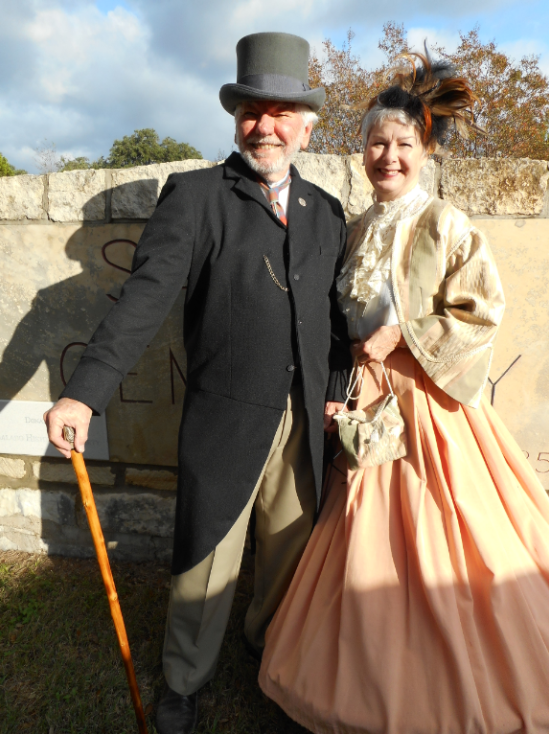 Saturday, October 1, 2016
On Saturday, October 1, 2016, as the afternoon shadows slip into the dimness of evening, the Salado pioneers who are buried in the Historic Salado Cemetery will come to life to tell their stories. Among those pioneers will be two visitors to the cemetery, Col. E.S.C Robertson and Judge O.T. Tyler. All pioneers will tell how they came to Texas, when they came to Salado, and how they served their community and their country. Some will tell all: others will keep their secrets safely buried.
Tablerock Festival of Salado and Salado Historical Society are sponsoring a walking tour of the Salado Cemetery located on Baines Street, on October 1, 2016 from 4:00 until 6:00pm. The program title, "Our Salado Heritage Speaks," refers to the lives of Salado settlers buried in the old Cemetery who will have their biographies presented by re-enactors. The program is scheduled to begin late in the afternoon and will conclude before dusk.
Eighteen early pioneers designated "Historically Significant" to the founding and early settlement of Salado are the focus of the walking tour. Seven grave sites have Texas Historical Commission markers. Five additional grave sites in the cemetery remain to be researched for historical markers. The early pioneers on the tour are: Col. Hermon Aiken, Dr. Welborn & Louisa Barton, Captain Milton Damron, Rev. James and Fannie Ferguson (parents of Gov. Ferguson), Capt. Robert Bonner Halley, Dr. Samuel Jones, Professor James Lowry Smith, James Anderson, Rev. George Washington Baines, Dr. Benjamin McKie, Archibald J. Rose, Leroy A. Griffith, John Paine, Jon Wesley Ray, Emily Bumpass Stockton, Col. Elijah Sterling Clack Robertson, Judge Orville Tyler, and Granville N. and Sophia Vickrey. Besides being noted Salado pioneers, these individuals made significant contributions to the educational, religious, political, and civic lives of people in Bell County and the State of Texas. In Salado proper, four pioneers have historical markers on their homes and two pioneers have family markers on their homes.
Tickets will cost $5.00 for adults and $3.00 for children 12-years-old and under.
Tickets may be purchased at the Salado Cemetery on the night of the program. Parking will be on site. Cars will not be permitted in the cemetery during the program.
The Salado Historical Society website is: www.saladohistoriclsociety.org
The Tablerock website is www.tablerock.org
Both are 501(c)(3) (non-profit) organizations.
For more information call Jackie Mills at 254-947-9205.