Thom the World Poet is Guest Host Poet at Tablerock's 23nd Annual
Central Texas Poetry & Prose Reading
Thursday, February 1st, 2018
Thom the World Poet will host the 24th Annual Central Texas Poetry and Prose Reading on Thursday, February 1, 2018, from 7:00 P. M. until 8:30 P.M. Invited Central Texas poets and writers of prose will grace Tablerock's inside stage to read five minutes of their works. The invited readers are: Nancy Fierstien from Dripping Springs, Richard Egg from Salado, Jack McCabe from Austin, Donna Bowling from Temple, TX, Steve Brooks from Austin, Barbara Cardinal-Sorge from Temple, TX and Sandi Horton from Waco. Two Salado High School Poetry Contest Winners from Mrs. Terri Seaton's English class on Poetry will also read their winning poems. An open microphone at 8:45 encourages new poets and writers to read two minutes of their work.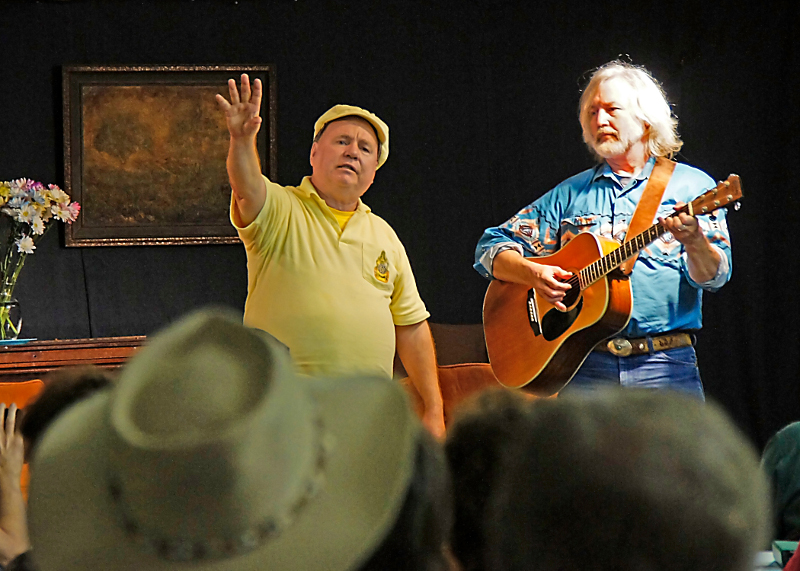 The Host Poet, Thom Woodruff, is originally from Australia and a hardy transplant to Austin. Thom Woodruff tours England and Australia Poetry Festivals when possible and in his adopted city of Austin he can be seen improvising with musicians at open mics, or hosting open mic venues in Austin and towns all over Central Texas. Thom, the tireless poet, is the co-founder of the Austin International Poetry Festival in 1993. His tour of Poetry Festivals all over the world and writing poetry every day keeps him in tune with the times and in demand at lectures and gatherings. His appearance at High Schools, in English classes, and at Libraries has students composing poetry and reading aloud….even the football players! Thom was also instrumental in renewing interest in and rejuvenating the Temple Live Poets in 2010. Thom was nominated for Texas Poet Laureate in 2015.
All participants in Central Texas Writers of Poetry and Prose must read from their original work or have a designated reader. The writer's works may be published or unpublished. A table will be provided for writers to display published works, sell books or tapes. Poets wishing to add their poetry to the Tablerock Poet's 11th Annual Anthology, "Animal Tales", may submit three poems about animals to tablerock1@aol.com for consideration. Please use Tablerock's submission guidelines. For a copy of submission "Guidelines" see our web site: www.tablerock.org There is no admission fee for our Festival on February 2 . Refreshments are available.
Tablerock Amphitheater is located in Salado, Texas at 409 Royal Street. The indoor stage is located in the building behind the amphitheater stage.
Guidelines for 11th Annual Tablerock Anthology "Animal Tales"
Poets Submission Rules
Poetry due date Feb 15, 2018
100 books published by July, 2018
You may enter 3 poems total, in one submission.
Submission should be e-mailed in an attachment - no snail mail
Attachment (up to 3 poems as one attachment) to tablerock1@aol.com only
Poetry will be juried by select published poets
Only 38 poems will be accepted for publication
Each poet selected to be printed in the anthology will receive 1 free book
Theme of 2018 Anthology is: Animal Tales
Printing Rules for Submission:
35 lines including title, blank lines, poet's name
12 point, single spaced, single sheet of paper
No more than 65 characters and spaces per line
List your name, mailing & e-mail address, and phone # on your submission, so that a free book can be mailed to you if you are selected for the anthology.